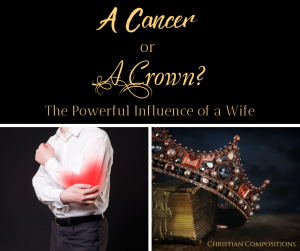 Part 1
Blind Spots
Have you ever been driving along, enjoying the beauty of the day, only to suddenly hear a horn blaring and realize you almost ran over the car next to you? They were in your blind spot, and you didn't even see them! Just because you did not see them doesn't mean there wouldn't be terrible consequences if a collision occurred.
Blind spots happen to everyone, and the only way to avoid danger and disaster is to learn to be more careful to look before moving, adjust your mirrors, and correct any "blind spot" issues as quickly as possible.
I had a major "blind spot" early in my marriage. Thankfully, I became aware of it soon enough to make some corrections and avoid a major disaster. I began doing some intense Bible study and making changes in my heart and life in hopes of amending this problem and avoiding future ones.
We all struggle with blind spots, and I'm sure I have others in my life that the Lord has yet to bring to my attention. My hope in sharing this particular story and study is that it will help others who may be dealing with this same blind spot to recognize it and recover before having a painful disaster.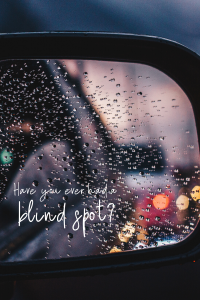 Early Years & Tears
When I first got married, I think I subconsciously felt that marriage would be pretty easy for me. I was blessed to be raised in a godly home. My parents had a solid, loving marriage. I'd been taught the principles of love and submission for as long as I can remember. I liked being "domestic", and my mom had trained me well in cooking, housekeeping, and myriad other homemaking skills. I was marrying a wonderful man who loved the Lord and loved me. We wanted to serve the Lord together. I hate to admit it, but I thought, "I've got this!"
Fast forward a few short years, and we were doing fairly well. My husband was an assistant pastor. I was busy at home and in the church. We were beginning to deal with the issue of infertility, which is a strain on any marriage, but other than that, I thought we were doing fine. However, I was unaware that I had developed a very bad habit.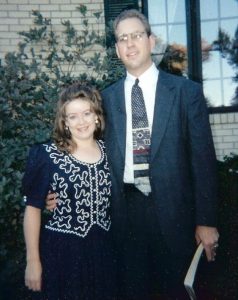 This may come as a surprise, but I'm not a very good communicator, and I was terrible when we first got married. I love to write, and talk, but actually expressing to my husband (or others) how I feel about things is really hard for me, especially if I'm upset. So, when I was angry or frustrated about something between us, instead of just telling him, I started finding "creative" ways to let him know I didn't approve or thought he needed to change. Usually this came in the form of teasing or poking fun of him in front of others at church. If someone started a conversation about an area where I felt my husband needed some improvement or correction, I would share a funny story…about him, or us. To others who knew us, it may have seemed harmless. It wasn't.
I'm thankful for a husband who loves me enough and cares enough about our relationship to confront me about it. One night after a particularly dramatic episode in front of a large group of church people, we went home and my husband told me how hurtful it was that I demeaned him, mocked him, and corrected him in front of other people instead of just talking to him about whatever my issues were. Of course, I was upset and defensive, but I quickly realized that I had truly hurt him and I was wrong. My husband is not the "sensitive" type, and I'm certainly not talking about simple teasing. He was kind enough to me to never let on in front of anyone else that what I was doing was wrong. When I finally became fully aware of what I had been doing to him, I felt terrible. I cried for two days, and begged him to forgive me, which he did from day one! I realized though that while forgiveness can be given instantly, trust takes time to rebuild, and wounds take time to heal.
That was a huge wake-up call for me. I had suddenly seen my blind spot. I realized that I needed a lot of work and a lot more wisdom if I wanted to be the wife my husband needed, and that God expected me to be. I needed to be more than just the wife who could cook, and keep house, and do the outward things that others could see. I needed to be the kind of wife with whom my husband could trust his heart. I began to pray that the Lord would truly help me to understand my husband, and that He would teach me to be the wife He wanted me to be. I began studying the book of Proverbs, specifically what Proverbs says about women. I've been studying it now for over 20 years, and I'm still finding things I need to learn and apply to my home and marriage.
One day, I came across this verse, and it reminded me of my earlier failure with my husband.
"A virtuous woman is a crown to her husband, but she that maketh ashamed is as rottenness in his bones." (Pro. 12:4).
I had read this verse many times before, but had only focused on the positive part. I had never really thought about the second half of the verse.
While the primary application of this verse is that if a woman is not virtuous, she shames her husband, I couldn't get away from thinking about a wife who makes her husband ashamed and what a negative impact she has on his life. I began to meditate and study on this thought.
When you look at the virtuous woman of Proverbs 31 and the positive influence she is on her husband's life and then contrast her with this woman who "maketh ashamed", it is truly eye-opening.
I think there are a lot of wives out there who are just like I was, completely unaware of how much they are hurting and shaming their husbands. I think there are many who never realize how much harm they are doing until their words or actions have deeply damaged their relationship.
I am certainly NOT a marriage expert, and I am thankful the Lord allowed me to see this early in my marriage. I am still learning and working on being a wife who is a delight to my husband, not a detriment.
So, exactly how do we make our husbands ashamed? And how can we be more like the virtuous woman instead? If we've already "blown it" in this area, can we change? Can the hurts we have inflicted be healed?
Join me for Part 2 of this series tomorrow.