Part 7 – Displaying God's Beautiful Plan, cont.
She gives him only what is profitable (Pro. 31:12; Pro 16:24: Tit. 2:5).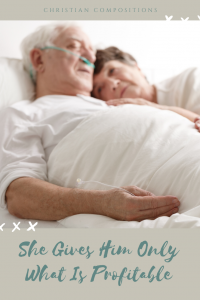 "She will do him good and not evil all the days of her life." (Pro. 31:12)
A crown represents something precious.
It is something valuable and beautiful. God speaks very highly of the worth and value of a virtuous woman (Pro. 31:10). Her character and nature are both beautiful and beneficial to her husband.
God's Word teaches us that one of the vital ways we can be a "crown" to our husbands is by simply doing good to him – not some of the time, or most of the time, but all of the time. This includes doing him good, and not evil, when he isn't so kind or good himself (see I Pet. 2 and 3 and Luke 6:35).
Genuine kindness, courtesy, thoughtfulness, service, and honesty are just a few of the important ways that we can do good to our husbands all the days of our lives (I Pet. 3:8-17). We need to ask the Lord to help us to be the kind of wife that is always seeking the good of our husbands, who is always looking for ways to benefit and help him.
She glorifies his position (Pro. 12:4; 31:11, 23; I Pet. 3:1-6).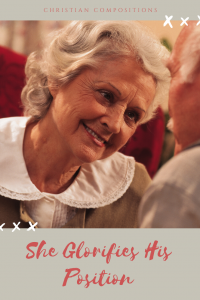 A crown symbolizes power.
A king has authority whether he wears a crown or not, but when he wears the beautiful crown on his head, others can see and recognize the authority and position he holds. In much the same way, God has given the husband authority in the home. Whether we recognize or honor that authority doesn't change the fact that it's there. However, when we as wives choose to honor the position of authority that God has given to our husbands, we are truly a crown to him.
A verse that is not culturally popular today is Ephesians 5:33, "Nevertheless let every one of you in particular so love his wife even as himself; and the wife see that she reverence her husband." We all like the first half of this verse, but often we aren't so sure about the second half. The reverence we are commanded to give in this Scripture doesn't speak of worship, but of an attitude of honor, respect, and deference.
We need to look for ways to show our husbands that we respect the position God has given them in our homes and in our hearts. He is to be our leader and our counselor. Some practical ways to do this are to speak respectfully to him. As mentioned in an earlier post, guard the tone of your voice and the look on your face. Speak respectfully of him to your children and to others.
Perhaps your husband is not respectable in your mind (and maybe he truly isn't). Speak first and often of him to the Lord. Speak only of his faults or failures to others when necessary, and do so with compassion. If you need counsel, seek godly counsel, preferably from an older woman or from your pastor and his wife.
Sarah, the wife of Abraham, was mentioned by God as an example for us in this area. She demonstrated respect and honor to her husband in the way she spoke to him and of him (I Pet. 3:5-6). We should seek to do the same.
She is grateful for his provision (Pro. 31:21-23; 26)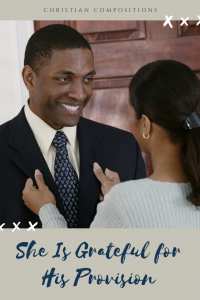 A crown is a proclamation.
Unlike the "rotten bones" which are under the surface and invisible for a long while, a crown is a public display.
In Proverbs 31:21-23, 26, we see that the virtuous woman is well-provided for and she is grateful for what she has. Her attitude of thankfulness isn't based primarily on what she has been given, but on who she is. Virtue and humility go hand in hand and always produce a grateful spirit. Pride and selfish expectations also go hand in hand and result in attitudes of ingratitude, complaining, and entitlement.
Gratitude is so important! Thankfulness that isn't expressed is wasted. Be sincere; flattery is manipulation so don't say nice things you don't mean, or just because you want something. However, be sure to say thank you often to your husband. Find ways to show your appreciation to him and for him. Be careful not to thank him only for material provisions (although you should be thankful for those), but thank him for who he is and what he does. Is he a hard worker? Thank him? A good provider? Thank him. A faithful husband? Thank him. A good dad? Thank him. A thoughtful mate? Thank him. A kind friend? Thank him.
A grateful wife is a crown to her husband.
She gains his praise (Pro. 31:28, 30-31)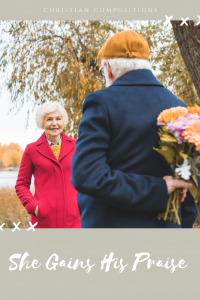 A crown represents pride.
I am not referring to pride in an arrogant or even personal sense, but by this definition from Merriam-Webster dictionary: "An asset that brings praise or renown".
While we honor and praise him, we also earn the honor and praise we desire. Every woman wants to be praised by her husband, to be seen as an asset that is valuable, precious, and worthy of recognition, but so many times we seek that attention, admiration, and appreciation in all the wrong ways. Seek to be a wife that your husband can respect and praise, not just for superficial qualities, but for your godly character and care for him. Seek to be that virtuous woman whose price is "far above rubies".
Remember that ultimately the One whose praise we should most desire is the Lord's. If He finds our efforts praiseworthy, we can rest and rejoice in that knowledge.
"Her children arise up, and call her blessed; her husband also, and he praiseth her. Many daughters have done virtuously, but thou excellest them all. Favour is deceitful, and beauty is vain: but a woman that feareth the LORD, she shall be praised. Give her of the fruit of her hands; and let her own works praise her in the gates." (Pro. 31:28-31)
"A virtuous woman is a crown to her husband…"
Remember this, "The king's heart is in the hand of the Lord…". You cannot change "the king", but you can choose to be the crown.
If you have been a "cancer" to your husband instead of a "crown", do not despair! There is hope! Don't miss Part 8 – The Cure – Applying God's Healing Power
Have you missed a previous post?