Last year, I started The School of Biblical Womanhood as an avenue for teaching and training the ladies, especially the younger women, in our church and local area. After many requests and much prayer, I decided to make it available online as well. These classes met once a week and included Bible teaching as well as practical instruction. In the first two semesters, we studied "Foundations of Biblical Womanhood" and "The Pattern of Biblical Womanhood" in our Bible study. This included topics like wisdom, virtue, the authority of the Word of God, discretion, and much more. In our practical classes, we learned cooking and baking, meal planning, hospitality, kitchen organization and decor, and sewing.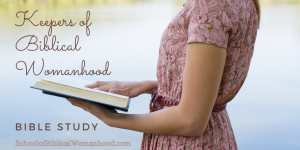 This week, we will begin our fall semester. The theme is "Keepers of Biblical Womanhood". Our Bible study is going to cover topics like: keeping the faith, keeping our hearts, keeping our homes, keeping our temples, and more. In the practical classes, we are going to be learning topics including: keeping our homes – caring for, decorating, and managing our homes well, managing our time, managing money, and health and nutrition.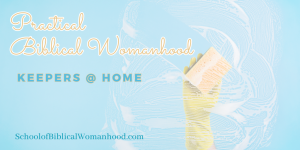 These classes are open to ladies who are in high school or older. For those in high school, the practical classes can be counted for school credit if completed successfully. The cost for the entire course (three hours weekly of classes) is $100. This can be paid in full at the beginning, or you can register for $25, and pay the balance in monthly installments.
The Bible study can be done with or without participating in the practical classes. Online classes can be watched live on Thursday evenings or can be accessed later for playback. The study will include 15 weeks of lessons and will have printable handouts each week. Additional study assignments will also be available if you want to study further. The cost for the Bible study only is $25.
If you are interested, but not sure about committing, I am offering a free trial if you sign up by Thursday.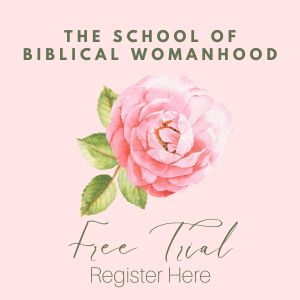 There is no commitment and no cancellation required. Simply sign up on the "Free Trial" page with your email address, and you will be sent instructions to join this week's class. After that, if you decide to continue, you will just need to pay the registration fee by August 24.
If you have questions, check out the FAQ page, or feel free to contact me for more information.
Note: If you are interested in a family, group, or missionary discount, please contact me. I would love to help!