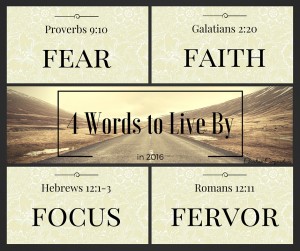 If you could choose just a few words to express your goals for 2016, what would they be?
As 2015 ended, I spent some time thinking about that question. After a lot of thought and prayer, I wrote down these four words – fear, faith, focus, fervor. These words express what I hope will define and direct my decisions, and develop in my life as this year passes.  I need the Lord's help in each of these areas, and it is my aim to keep them in the forefront in my Bible study, my prayer time, and my choices as I go through this year.
A few thoughts on why these are my "words to live by"….
Fear
You may be wondering why I would choose "fear" as one of my words, and especially my first word. I don't want to live in fear, or to have a spirit of fear. Why would I want fear to define me, or help determine my choices? Why would I want to develop fear?
The answer is simply because the fear of the Lord is the beginning – the beginning of wisdom, and the beginning of knowledge. (Ps. 111:10; Pr. 1:7; 9:10)
There are many other reasons….
"The fear of the Lord is the instruction of wisdom…" (Pr. 15:33)
"The secret of the Lord is with them that fear Him…" (Ps. 25:14a).
"The fear of the Lord prolongeth days…" (Pr. 10:27)
"The fear of the Lord is a fountain of life….." (Pr. 14:27)
"In the fear of the Lord is strong confidence, and his children shall have a place of refuge." (Pr. 14:26)
"…by the fear of the Lord men depart from evil." (Pr. 16:6; 3:7; Job 28:28)
These are just a few of the benefits and blessings of fearing God.
I believe one of the greatest deficiencies in my life, and the lives of many others, is a lack of the fear of God. I think we rob ourselves of so many good things by our deficit of godly fear. I want to fear the Lord more this year than ever before. I want to learn to fear Him. I want to love to fear Him. I want to "serve the LORD with fear, and rejoice with trembling." (Ps. 2:11) I have found that as I fear Him, my other fears go away.
"Like as a father pitieth his children, so the LORD pitieth them that fear him." (Ps. 103:13)
"The LORD taketh pleasure in them that fear him, in those that hope in his mercy." (Ps. 147:11)
Faith
As I fear God, I also want to trust Him more than I ever have before. The Bible says, "…without faith it is impossible to please Him." I want to please the Lord with my life, and I cannot do so without faith. It is the sum and substance of the Christian life. "Now faith is the substance of things hoped for, the evidence of things not seen." (Heb. 11:1)
I want His direction in my life. This comes only by faith and obedience. "Trust in the LORD with all thine heart; and lean not unto thine own understanding. In all thy ways acknowledge him, and he shall direct thy paths." (Pro. 3:5-6)
Focus
It is so easy to get distracted, and to lose focus on what really matters. I want to stay focused on Christ this year – His plans, His priorities, His purpose. I want to have a single eye and a single heart for Him (Mt. 6:22; Eph. 6:5; Col. 3:22).
"Looking unto Jesus the author and finisher of our faith; who for the joy that was set before him endured the cross, despising the shame, and is set down at the right hand of the throne of God." (Heb. 12:2)
Fervor
I don't want to be lukewarm. I don't want to be apathetic. I don't want to be indifferent, spiritually asleep, unconcerned. I don't want to be half-hearted. I don't want to be self-satisfied.  I want to be fervent, fiery, passionate for the cause of Christ. I want to pray fervently. I want to share Christ fervently. I want to love His Word fervently.
"The effectual fervent prayer of a righteous man availeth much." (Jas. 5:16b)
"Not slothful in business; fervent in spirit; serving the Lord;" (Rom. 12:11)
The Lord is coming soon, perhaps this year, perhaps even today. I want to be found faithful to Him. I want to love His appearing.
Do you have any "words to live by" for this year? Perhaps these four words express what your heart and prayer is for this year as well.  Do you have any suggestions for practical ways that would help me make these goals a reality? I would love to hear from you!
I designed a desktop background for my computer, and a wallpaper for my phone to help keep these words before me. If you would like to join me in making these your "words to live by" for this year, you are welcome to download these images. You can download the desktop image here, and the phone wallpaper here.