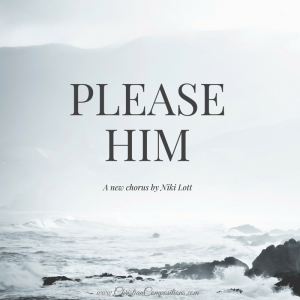 The theme for our church in 2016 is "Please Him." My husband (our pastor) was discussing the theme with me a few weeks ago, and what God had laid on his heart. The two verses that led him to choose this theme are Jn. 8:29 and II Tim. 2:4.
"And he that sent me is with me: the Father hath not left me alone; for I do always those things that please him."

"No man that warreth entangleth himself with the affairs of this life; that he may please him who hath chosen him to be a soldier."
He asked me if I could write a song for our church to go along with the theme. I told him I'd be glad to try!
As I read the verses he shared with me, and prayed about the words and music, I was struck by the simplicity, yet the enormity, of these two words – "Please Him". These words really sum up the goal of the Christian life. I have thought much since then, how can I learn to "do always the things that please Him"? Am I willing to not be entangled with the "affairs of this life", that I may "please Him"? Do I take the time to consider and thank Him that He has chosen me to be His soldier? Am I pleasing Him right this moment – not in some general, abstract way, but in a genuine, practical, literal way?
I'm thankful the Lord gave me this chorus, which we introduced to our church the first Sunday of January as we began our winter revival. It has challenged me, and I pray it will continue to do so.
The lyrics are simple, but direct:
That I may please Him, Who gave His life for me,
That I may please Him, a faithful soldier be.
Make this my one desire, the aim that I pursue,
In everything I think, and say, and do,
That I may please Him.
How I pray that the words can be true in my heart and actions each day of this year, and every day of my life! If it would be useful to you or your church, it is available to download free through the end of January.
May God bless you as you seek to "please Him".