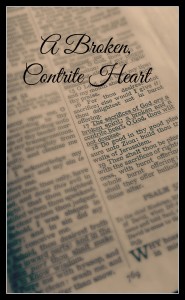 I come to You, O Lord, to bring
A sacrifice, a broken thing,
Not fit to offer to a king.
No costly treasure I have bought,
No noble deeds that I have wrought,
Just ruined pieces have I brought.
This object that to You I've borne
Is viewed by most with mocking scorn,
Though some may pity as I mourn.
'Tis filled with naught but guilt and fears,
'Tis salted well with bitter tears
And cries meant only for Your ears.
It's sullied with the stains of sin,
Damaged by the hurts of men,
Shattered bits of what has been.
All earthly monarchs would reject
As undeserving of respect;
And yet, my Lord, you will accept
This gift, in which I cannot boast.
Perhaps 'twill glorify You most,
For to Your feet it brings me close.
For pardon I do now implore,
Create, renew, uphold, restore,
The joy and peace I had before.
For You can cleanse the sinful soul,
And You can make the wounded whole,
And You alone my griefs console.
Though guilty You have never been,
Yet You have known the pain of sin,
And You have been reviled by men.
And so I lay, with downcast eyes,
My crushed and bleeding worthless prize,
And know, O God, You'll not despise
A broken, contrite heart.
 ©Niki Lott 2014.
You can hear the music here: http://youtu.be/GcXWDSZExZs
"The sacrifices of God are a broken spirit: a broken and a contrite heart, O God, thou wilt not despise." (Ps. 51:17)
"He healeth the broken in heart, and bindeth up their wounds."  (Ps. 147:3)