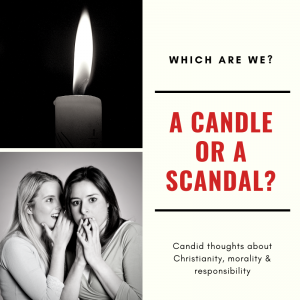 2018 has been filled with headlines and stories of immorality and scandal. We have been inundated with the "Me Too" movement, the Kavanaugh accusations and subsequent retractions, the "Shout Your Abortion" campaign, gender confusion, and much more. Even worse, we've heard stories of wickedness and abuse in churches.
As I've watched and listened, it has been with an ever-growing sense of grief. I am sad for those who have been victimized. I am angry at those who have been perpetrators. I am aghast at the accusations, while also being shocked and frightened at how quickly people assume the guilt of any accused person. I am sickened at the callous corruption and moral confusion of our world. Most of all, I am grieved at the seeming inconsistency of those who claim to be Christians, and the lack of salt and light we are in our "present evil world".
The greatest scandal occurs when we who are to be shining as lights in the world reflect the world around us more than the Christ within us.
Many are quick to speak their outrage at the awful things done by "Hollywood elites", media moguls, Washington insiders, and even religious leaders. We should be outraged, but how can we speak with any kind of moral integrity or authority if we are lining their pockets by watching the filth they produce, or voting them into office when we know they have no moral compass? We consume the garbage that Hollywood and the music industry puts out, and refuse to put out the garbage in Washington that we have voted in. We are righteously indignant at immorality in our spiritual leaders, yet we are just as indignant if our spiritual leaders preach for holiness and against sin.
The seeming avalanche of immorality and corruption should come as no surprise. For generations, our culture has been descending into a slimy pit of sexual "freedom" by systematically attempting to remove God from our conscience, denying moral absolutes, and substituting cultural relativism for the reality of God's commands. We've created confusion and corruption by refusing God's clear guidelines.
God created sex for marriage, a union between a man and woman within that exclusive bond. God's plan is simple and clear. Sexual intimacy inside of the marriage covenant is honorable. Outside of that bond, it is sin. Whether or not those accused in this recent spate of scandals are guilty of breaking the laws of the land, if they engaged in sexual activity outside of marriage, they have broken the law of God.
Although it is sad to see our culture flooded with such moral decay, it is grievous to see those who claim to be God's children doing little to stem the tide. Rather than standing firmly for what the Bible teaches and seeking to model the beauty of God's plan to the world, in many cases, we have fallen for the world's lies and seen our families, churches, and even communities pay the price.
Do you think I overstate it? Consider this.
Even among many who profess Christianity:
Modesty is mocked.
Purity is seen as prudish.
Fornication is widely accepted, or at least expected. Abstinence is seen as archaic.
Fornication is seen as freedom.
Marriage is viewed as bondage.
Pregnancy is widely perceived as a punishment, and children are generally viewed as a burden.
If you choose to believe that children are a gift from God, and have many of them (more than two or three), you will be subjected to a great deal of criticism.
Just recently, a well-known "Christian" singer said she "could not say" what the Bible teaches about homosexuality. This saddens, but also frustrates me. The Bible is abundantly simple and clear on this point (and many others), yet there is a large and growing movement of people who claim to know, love, and follow Christ, but have views about sexuality and morality that are anything but biblical or Christian.
They cling to, and promote, the belief that "love" should never identify or confront sin. They fear offending others but seem to have little or no fear of offending God. While they are quick to embrace the idea of "coexisting" with others regardless of their doctrines or lifestyles, they are quite skeptical that love and candor, grace and holiness, or mercy and truth, can coexist. Because of their worldly popularity, they are influencing the hearts and minds of our young people (and frankly, a lot of older people) while they openly admit they know little to nothing about the Bible.
Some of you may be thinking (or shouting at your screen), "What about all those preachers who preached on purity and holiness and morality, then turned out to be adulterers or predators?"
There is no doubt that this is sometimes a sad and terrible reality. I would gently remind you that the problem wasn't that they preached on holiness. The problem came when they didn't live what they preached. God's commands are still true and good even when the people who are supposed to be following them, and even teaching them, turn out to be false and evil.
Christians, it is time for us to stop conforming to our culture and instead conform ourselves to Christ. We need to allow the light of His holiness and purity to shine through our lives. We are to be people of virtue and integrity. Single or married, our lives should be a testament to the purifying influence of God's Word and Spirit. Our character should be above question. We need to seek above all else to live in a way that honors and glorifies the name of Christ. We need to stop excusing sin in ourselves and in our churches. If we would stop entertaining ourselves with immorality, perhaps we would not find ourselves engaging in it so frequently.
We must be aware that we have no moral ground to stand on if we are not first basing that ground on the foundation of God's Word. We need to know the Word of God. We need to live the Word of God. We need to teach the Word of God. Right and wrong are not relative to our opinions, our emotions, our family backgrounds, or our culture. Right and wrong are based on God's Word.
Should we have compassion on those who have been sinned against, or even those who have sinned themselves? Of course! Do we offer forgiveness and restoration to those who seek it? We should, just as Christ does. Compassion, love, and restoration require truth – not "my truth" or "your truth", but God's truth. It is not unloving to share the Word of God. We are to be "speaking the truth in love" to those around us.
If you choose to pursue a path of purity and holiness, be prepared for some fierce opposition and derision; but also realize that walking in the fear of God, according to His Word, is a shield for our hearts, minds and lives. If you have failed or fallen, repent and do right as quickly as possible.
In a day when our culture reflects the book of Judges, when every man did that which was right in his own eyes, let's seek to be people who strive to live according to that which is pleasing in God's eyes. Shine the light of His truth, His holiness, and His redemptive power over sin to a world that is desperate for hope, freedom, love, and peace.
"That ye may be blameless and harmless, the sons of God, without rebuke, in the midst of a crooked and perverse nation, among whom ye shine as lights in the world;" (Phil. 2:15)
"But fornication, and all uncleanness, or covetousness, let it not be once named among you, as becometh saints; Neither filthiness, nor foolish talking, nor jesting, which are not convenient: but rather giving of thanks. For this ye know, that no whoremonger, nor unclean person, nor covetous man, who is an idolater, hath any inheritance in the kingdom of Christ and of God. Let no man deceive you with vain words: for because of these things cometh the wrath of God upon the children of disobedience. Be not ye therefore partakers with them. For ye were sometimes darkness, but now are ye light in the Lord: walk as children of light: (For the fruit of the Spirit is in all goodness and righteousness and truth;) Proving what is acceptable unto the Lord. And have no fellowship with the unfruitful works of darkness, but rather reprove them. For it is a shame even to speak of those things which are done of them in secret. But all things that are reproved are made manifest by the light: for whatsoever doth make manifest is light. Wherefore he saith, Awake thou that sleepest, and arise from the dead, and Christ shall give thee light. See then that ye walk circumspectly, not as fools, but as wise, Redeeming the time, because the days are evil." (Eph. 5:3-16)