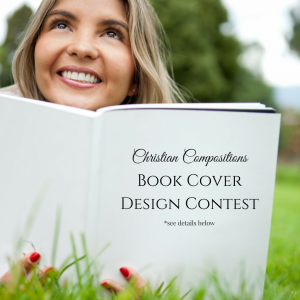 I am excited to announce an exciting and fun contest for my creative, graphic-design friends! I have been working on a new Bible study for ladies entitled, The Classroom of Contentment, Where You Learn That God Is Enough.
While I have learned to do some basic design, it is NOT my strong suit. That's why I thought it would be good to enlist some help.
You will find all of the details, submission guidelines, and the entry form for the contest here. The following are some of the highlights:
The deadline for submissions is May 25, 2018.
Your entry form must be completed and e-mailed to: info@christiancompositions.com. (Be sure to add this address to your "safe" list so that any questions or replies I may send do not go into your junk e-mail folder.
You must have a valid e-mail address.
Entry must meet the technical specifications as well as be consistent with the image and values of Christian Compositions*.
Of course, you want to know what the prizes are, right?
Creator of the winning design will receive:
Credit in final book(s)
Signed copy of the finished project
$75 Amazon gift card
$25 Christian Compositions gift certificate
Two runners-up will receive:
Copy of the finished book
$20 Christian Compositions gift certificate.
I will select the top ten finalists, and will post the final designs on the Christian Compositions blog and Facebook page on May 28. Voting will close June 2, and a winner will be announced June 4. I am looking forward to the entries and the finished product!
Be sure to download and read all of the details before entering to ensure that your entry is valid. Happy designing!
Niki Lott
Christian Compositions
P.S. If you follow the Christian Compositions page on Facebook, tune in for a Facebook Live about this contest this afternoon (5/1) at 3:00 p.m. EST! 
*The purpose of Christian Compositions is to produce Christ-honoring, conservative Christian music and products. I believe that the Bible is the Word of God, and that believers should seek to live a life that is holy and glorifying to our Savior. Further details are included in the entry download.