Choruses can be a powerful and effective tool for a church music ministry. While there has been a rise in recent years of choruses that are shallow or contemporary in nature, that should not cause us to ignore the benefits that sound, doctrinal choruses can have.
Because they are not lengthy songs, choruses are easy to teach and easy to learn. They are a wonderful way to rehearse simple truths in a way that is enjoyable and memorable.
We have used choruses for many years in our church. Here are some of the ways we have used them:
Choir Openers
Special Meetings – revivals, missions conferences, etc.
Children's/Youth Ministry
Church Theme Emphasis
Congregational Singing
I have written many choruses for our church or other ministries over the years. Many of these are available individually on the website. I have decided to also offer them bundled together as a download package. This package includes two brand new choruses! This will be a more affordable option for those who would like to have all of the choruses.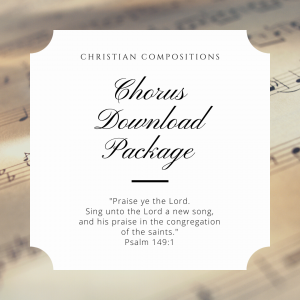 Titles included in this package are:
Fishers of Men
For Such a Time As This
He Sent His Word
House to House
Intervene
Live for What's Certain
My Strength and My Song
Someone Is Counting On You
Sowing Bountifully
Transformed
Turn Back to the Bible
Unto Him Be Glory In the Church
If you are interested in multiple copies of an individual chorus, or of the package itself, for use with a choir or congregation, please contact me directly for licensing and quantity discount information at info@christiancompositions.com.
Order your Chorus Download Package today!