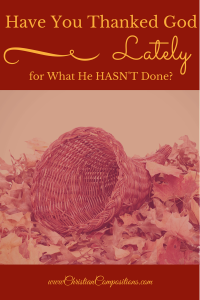 The grace and mercy of God are wonderful things to consider and to experience. God's grace to us–His giving to us what we do not deserve and could never earn–is beyond expression. As many writers have said, it is amazing.
God's mercy is also amazing. In fact, mercy is spoken of more than 300 times in the Scriptures, over 100 times more than grace is mentioned. I think perhaps we do not meditate enough on the mercy of God.
While the grace of God is beautiful and reminds us of all the goodness God offers to us, His mercy reminds us of how deeply we need Him, and of how undeserving we are. When I plead for God's mercy, it is because I am aware of how much I deserve His judgment. When I praise Him for His mercy, it is because I am conscious of my guilt and sin, of His holiness and justice, and of how profoundly grateful I should be that God has extended His mercy to me.
Many "preachers" and "teachers" today shy away from speaking of the judgment of God. They avoid crying out against sin and reminding us of its accompanying wages. They refrain from making anyone feel "guilty", but we are guilty; and until we recognize how desperately wicked we are, how woefully worthy of God's judgment, we will never repent and appeal to Him for mercy, and receive His grace.
It is fairly easy to admit that we are undeserving of God's grace, but it is only when we stop to consider that we are deserving of God's judgment that we can understand the goodness of God to us.
We can never fully appreciate the grace of God until we humbly acknowledge the mercy of God.

A deep appreciation of His mercy will prevent us from abusing His grace.
"It is of the LORD'S mercies that we are not consumed, because his compassions fail not." (Lam. 3:22)
"What shall we say then? Shall we continue in sin, that grace may abound? God forbid." (Rom. 6:1-2)
There is an entire psalm dedicated to praising God for His mercy (Ps. 136). The phrase "His mercy endureth for ever" is repeated 41 times in the Bible!
Have you asked God for mercy? Have you experienced the mercy and forgiveness of God? If not, you can do so today!  If you have, then take some time to think about the mercy of God – of what you deserve, of what He forgave and continues to forgive, of the judgment from which you have been spared.
I was reminded of this song as I was thinking on God's mercy:
"I stood condemned to die,
And nothing I could try
Would ever satisfy
God's just demands.
The works I thought so right
Were filthy in God's sight,
By my deeds justified
I could not stand.
But mercy made a way
My debt of sin to pay
Atonement has been made
For all my sin.
For Jesus took my place,
Redeemed me by His grace,
And so I came by faith,
And called on Him,
And God was satisfied,
Redemption's price was paid.
Yes, He was satisfied,
On Christ my sin was laid.
My Savior gave His life,
The perfect sacrifice,
So when God looks at me, He sees the blood applied,
And He is satisfied!
Have you thanked God lately, not for what He has given you that you do not deserve, but for not giving you what you do deserve?

Thank God for His mercy today!!!
"O give thanks unto the LORD; for he is good: for his mercy endureth for ever." (Ps. 106:1; 107:1; 118:1, 29; 136:1)
"Enter into his gates with thanksgiving, and into his courts with praise: be thankful unto him, and bless his name. For the LORD is good; his mercy is everlasting; and his truth endureth to all generations." (Ps. 100:4-5)
"The LORD taketh pleasure in them that fear him, in those that hope in his mercy." (Ps. 147:11)
I will sing of mercy and judgment: unto thee, O LORD, will I sing." (Ps. 101:1)