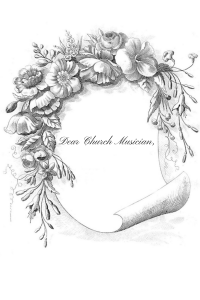 Do you have the privilege of being a part of the music service in your church tomorrow? If so, are you prepared?
I have been thinking recently about sharing some thoughts on preparing for special music in the church service. There are a lot of aspects that we could discuss – some more technical, some more practical. However, it occurred to me that in our desire to make a good presentation, or have a pleasing performance, we often forget the most important aspect of preparation – the spiritual. This has been very convicting to me. As in every part of our lives, the spiritual is the most important, but usually the most neglected.
If a song is technically accurate, vocally perfect, emotionally moving, but spiritually dead, it has completely missed the mark.
We must never forget that our service is to the Lord. This is true for the congregation, the choir, the instrumentalist, and the vocalist.
If we say that we want to use our music to worship God, it must contain two essential components: spirit and truth. Without these two elements, there is no true worship of God. Spirit and truth are inexorably linked. They cannot contradict one another. The Holy Spirit is "the Spirit of truth". He guides us "into all truth". "The Spirit is truth". His Word is "the word of truth".
The Holy Spirit will never use music that is filled with the spirit of the world to seek to convey a message of truth. He will never guide us to sing a song whose words that are not in agreement with the Word of God. Calling something spiritual does not make it so. And just because someone is worshiping does not mean they are worshiping God. Music has always been associated with worship – both spiritual and unspiritual. We must be very careful that our music is truly worshiping God.
A song can appear to have "spirit", but if it is not filled with truth, then it cannot worship God. Spiritual music has nothing to do with excitement, or emotional impact. It has everything to do with goodness, and righteousness, and truth. (Eph. 5:9) To have the "Spirit of truth", our music must be filled with the "word of truth". And if we attempt to speak (or sing) truth, but have a spirit that is not right with God, not filled with His Spirit, then we are still not worshiping God. In order for "spiritual music" to have any effect, it must not only be true, but it must be sung by spiritual people.
Spiritual music is to be an outflowing of the Spirit and truth.
Ephesians 5:18-19 says, "…be filled with the Spirit; Speaking to yourselves in psalms and hymns and spiritual songs, singing and making melody in your heart to the Lord;". Colossians 3:16-17, "Let the word of Christ dwell in you richly in all wisdom; teaching and admonishing one another in psalms and hymns and spiritual songs, singing with grace in your hearts to the Lord. And whatsoever ye do in word or deed, do all in the name of the Lord Jesus, giving thanks to God and the Father by him."
As you prepare for church tomorrow, as you seek to worship the Lord, consider your song, and consider your spirit. Are both filled with the Spirit and with truth?
May God help us to be true worshippers.
"But the hour cometh, and now is, when the true worshippers shall worship the Father in spirit and in truth: for the Father seeketh such to worship him. God is a Spirit: and they that worship him must worship him in spirit and in truth." (Jn. 4:23-24)