Several years ago, I heard a message preached on Psalm 137. It stirred my heart and got me to thinking of how difficult it can be to "sing the Lord's song in a strange land".
We know that the exile in Babylon was due to the sin of the nation of Judah, but not every individual who was taken to Babylon, or who was born there during the captivity, was directly responsible for their captivity. There were people like Daniel, Ezekiel, Mordecai, Esther, Nehemiah, and others who were godly people suffering because of the sin of others.
I can imagine that these who sought to remain true to the Lord even in the land of Babylon faced quite a bit of mocking and scorn, not only from the Babylonians, but from their own people who were not faithful to the Lord. It was from those thoughts and others from Scripture that this song came to be.
There is no doubt that sometimes our sorrow and suffering is the result of our own sin. There is also no doubt that sometimes sorrow and suffering is just the result of living in a sin-cursed world.
How can we sing the Lord's song when we are in the midst of difficult, painful circumstances? Can we learn, as Paul and Silas did, to sing in the midst of our "captivity"? This song asks and answers those questions.
Although this song begins in a minor, and expresses a great deal of the sadness and sorrow we can experience, it is a song of hope and faith. I hope that it will encourage many to trust in the Lord, not just after a trial, but in the midst on one.
The sheet music is now available. It is arranged as a solo with piano accompaniment, and can be purchased as printed sheet music or as a digital PDF download. Just select "digital" from the drop-down menu to select the PDF download.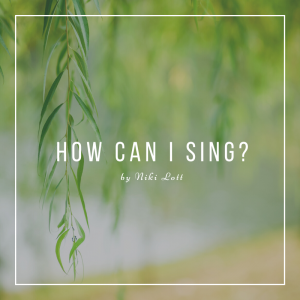 How Can I Sing is also the title song of my latest CD. You can purchase it here.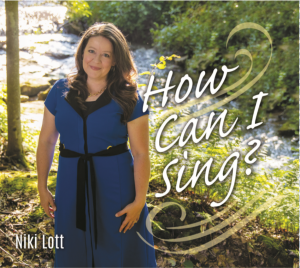 Lyrics:
My harp hangs here in the willow tree by the riverside.
And the memories bring weeping that I cannot hide. 
The enemy says mockingly, "Why don't you sing a song?"
And in despair I think of how it has been so long.
How can I sing Jehovah's song while I'm here in Babylon?
How can I sing when I'm in a place that I did not choose?
How can I sing with a broken heart and a mind confused?
My thoughts are filled with shattered dreams and hopes left unfulfilled.
How can this be what has come to me if I'm in His will?
How can I sing Jehovah's song while this pain is what I feel?
How can I sing that the Lord I serve is a God who saves?
Of deliverance and freedom when I am a slave?
How can I sing of joy and peace while I cry bitter tears?
How can I sing of confidence when I'm filled with fears?
How can I sing Jehovah's song when it seems He is not near?
By faith I'll sing that my God gives peace in the midst of fears!
And I will sing that my Lord gives joy in the midst of tears.
And I will sing for my spirit's free although I'm in captivity.
And I will sing, for I know His plans are best for me.
Yes, I will sing Jehovah's song while I'm here in Babylon.
Copyright 2013 Niki Lott.