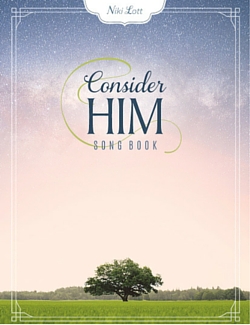 I am so excited to announce the release of my new book, Consider Him!  It is the companion book for the CD I recorded last year by the same title.
This project is very close to my heart, and is the product of several years of writing. These songs are expressions of what the Lord has been doing in my heart and life. Some were written many years ago, but many are from the past year or two.
The CD project was a direct answer to prayer, and the ability to see this book in print is another answer to prayer. I am humbled and thrilled to see the Lord continue to open doors and make provision.
Consider Him contains 10 vocal solos with piano accompaniments. It is coil-bound, which is helpful to pianists and vocalists. It will be available as a printed book, and as a PDF download. The individual songs are also available in printed (physical) or PDF (digital) format. You can hear sample audio previews of each song on the website.
The printed books will be available for a special introductory pre-order price of $10 through 4/8, with free shipping! If you do not yet have the CD, you can also take advantage of the package deal, and purchase the CD & book together for $20. That is over 25% off retail price! Be one of the first 50 to purchase a book, and your copy will be autographed!
It is my fervent hope and prayer that the songs in this book will be used to encourage, challenge, and strengthen you, and those you minister to, as you sing these songs for the Lord.
If you are interested in placing quantity order (more than 5 copies) of books or CD's to put in a bookstore or other venue, please contact me.
Also, although I am unable to process international orders, directly through the online store, I can assist you (digital only) if you contact me.
Thank you, and God bless!
Thank you so much for your support!
Niki