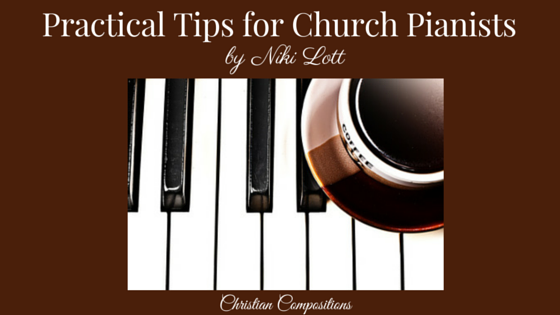 I have had the privilege of being a pianist in my local church for almost 25 years. That makes me feel old! In the beginning, I occasionally played an offertory, accompanied a special, or played for our youth choir. Over time, and depending on the church I was in, I have had differing responsibilities. Now, I am the sole pianist at my church (and am praying for the Lord to send me a helper!).
Over the years, I have found that there are a lot of resources available for church pianists – hymnbooks, offertory arrangements, instructional courses, and more. Most of these address the mechanical aspects of playing, but I have found very little information addressing the practical aspects of playing. How long should an offertory be? What in the world is a prelude? How do I play an introduction to a hymn? These were just a few of the questions I had, especially as a beginning pianist.
If you studied church music in college, or had a good Christian piano teacher, you may have been taught the answers to these and other questions, but most of us just have to guess, or learn by asking another pianist. While there aren't many hard and fast rules, there are a lot of tips and ideas that have been passed along to me that have been a great help. I am going to share some of these with you over a series of posts. I pray that they will be a blessing. If you have a specific question, please feel free to ask. I can't guarantee I will know the answer, but if I don't, I'll try to find someone who does.
(Ps. 33:1-3) "Rejoice in the LORD, O ye righteous: for praise is comely for the upright. Praise the LORD with harp: sing unto him with the psaltery and an instrument of ten strings. Sing unto him a new song; play skilfully with a loud noise."