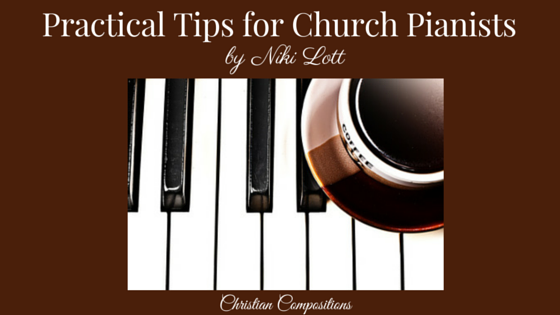 Being a church pianist is different than being "just a pianist", or it should be! There are a few simple questions that each of us who are involved in the music ministry (or really any ministry for that matter) should ask ourselves:
Why?
Motivations
Why? Why? Why am I doing this?
You may ask yourself this every time you go to the piano! I know that many times the job of church pianist simply falls to whomever is willing to do it. And if you are that person, God bless you! But often, it is done with dread, viewed as drudgery, or simply a duty. Or perhaps it is the other extreme, and you do it with a sense of pride or entitlement. Let me encourage you to remember that any service you can do for the Lord is a privilege and honor.  You may struggle with feeling that you are not as talented as someone else, or that you already have too much to do, and those things may be true. But we are to be"….the servants of Christ, doing the will of God from the heart…" (Eph. 6:6)
For whom?
Expectations
Who am I trying to please?
This answer goes right along with our first answer, and I'm sure you already know what it is, but I'll write it down anyways! We are to do any service or ministry we do for the Lord and unto the Lord, not men. I think this is especially difficult in the area of music. It is so easy to allow ourselves to become overly concerned with what people think, and totally unconcerned about what God thinks. We worry that people may think we aren't good enough, or we imagine they will think we are wonderful. Either way is based on pride, and isn't the least bit pleasing to the Lord.
What are my expectations as a church pianist?
Money? Probably not (although that would be great!). Applause? Appreciation? Approval? Whether you are a beginning pianist, struggling to work you way through a simple hymn, or an experienced pianist who could play through most of the hymns with your eyes closed, check out your expectations. Maybe instead of asking ourselves what our expectations are, we should ask ourselves what God's expectations are of us. We need to focus on Him. Play for Him. Practice for Him. Please Him. If you succeed at that, nothing else matters. And if you fail at that, nothing else matters.
What?
Obligations
What are my duties as a pianist in the church?
This may vary from church to church, and you need to talk to your pastor or music director to find out what is expected of you. However, whether it is playing a prelude, offertory, congregational hymns, choir, playing for a Sunday school class, or something else, your chief obligation is to be faithful. We will discuss in further posts more details about this, but two verses come to mind: "Moreover it is required in stewards, that a man be found faithful." (I Cor. 4:2), and "He that is faithful in that which is least is faithful also in much: and he that is unjust in the least is unjust also in much. (Lk. 16:10). God is far more pleased with our faithfulness than He is with our talents.
How?
Qualifications
How can I be a good church pianist?
There are many ways that question could be answered, and I'm sure there are many teachers who give excellent (and much needed) lessons in the mechanics of church music, but I would like to take this to it's root. To be a good church pianist simply do your best. If you are a seven-year old about to play "Jesus Loves Me" in your Jr. Church, do your best! If you are an accomplished pianist who is giving a concert version of "How Great Thou Art," do your best! If you are an 85-year old grandmother with fingers crippled with arthritis, do your best! God knows when we are giving Him the best that we have, and that is what He asks. "Whatsoever thy hand findeth to do, do it with thy might…" (Ecc. 9:10), and "…whatsoever ye do, do all to the glory of God." (I Cor. 10:31) Remember, "the LORD seeth not as man seeth; for man looketh on the outward appearance, but the LORD looketh on the heart."