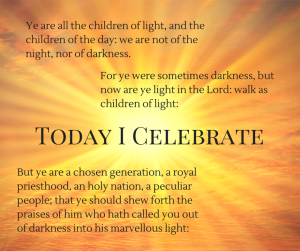 On this day when evil, and darkness, fear, and death are paraded and glorified, I celebrate life, and light, and peace, and the power of the resurrection. I am thankful that through the death and resurrection of the Lord Jesus Christ, I need not fear death. What Satan desired and planned as an eternal dungeon of torment for my soul is now just a portal to eternal life and light with my Savior!
Do not be deceived, my friends. Satan may portray death and wickedness as "child's play", something to glorify, or to mock. He may try to desensitize us to its horrors, or distract us from its reality, but in truth, if our eternity is not secure in Jesus Christ, we are in bondage to death and its fear. Perhaps this is the reason for the morbid fascination today with zombies and vampires and witchcraft. Perhaps that is why Satan tries to get us to equate this day of darkness with costumes and candy – because he is the king of deception, (does he not make himself an angel of light?), and a master of offering something that appears sweet, but has no lasting value, and is truly detrimental (remember Eve?).
Today I will celebrate ultimate victory – the victory of Christ over the devil, the victory of life over death, the victory of His blood over my sin, and the victory of love over fear. Do you know this victory? Do you live free of the fear of death because your eternal future is settled and secure in Christ? If not, you can. Choose life. Choose victory. Choose freedom. Choose repentance. Choose faith. Choose Jesus Christ.
If you would like to know how to be certain of your eternal destiny, I would love to tell you more about my Savior. Feel free to contact me anytime.
If we are truly Christians, we must be careful that we walk as children of light. If our lights are to shine before men, and to glorify our Father in heaven, we must refuse darkness. We must reprove darkness.
"If we say that we have fellowship with him, and walk in darkness, we lie, and do not the truth:" (I Jn. 1:6) "For ye were sometimes darkness, but now are ye light in the Lord: walk as children of light: And have no fellowship with the unfruitful works of darkness, but rather reprove them. For we wrestle not against flesh and blood, but against principalities, against powers, against the rulers of the darkness of this world, against spiritual wickedness in high places." (Eph. 5:8, 11; 6:12)
"But we see Jesus, who was made a little lower than the angels for the suffering of death, crowned with glory and honour; that he by the grace of God should taste death for every man. Forasmuch then as the children are partakers of flesh and blood, he also himself likewise took part of the same; that through death he might destroy him that had the power of death, that is, the devil; And deliver them who through fear of death were all their lifetime subject to bondage." (Heb. 10:9, 14-15)
"O death, where is thy sting? O grave, where is thy victory? The sting of death is sin; and the strength of sin is the law. But thanks be to God, which giveth us the victory through our Lord Jesus Christ. Therefore, my beloved brethren, be ye stedfast, unmoveable, always abounding in the work of the Lord, forasmuch as ye know that your labour is not in vain in the Lord. (I Cor. 15:55-58)