Dear Friends,
Many of you know by now of the tragic death of Missionary Charles Wesco. He was shot and killed just a few days ago in Cameroon, West Africa. He had only arrived there with his family twelve days earlier.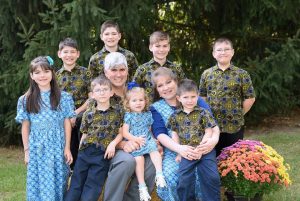 Although I have known Stephanie Wesco for many years, I had not seen her in quite a long time. In May, she and her family stopped by our church for one of their final deputation meetings. We thoroughly enjoyed getting reacquainted, and I was so happy to meet her husband and children. Their family was a great blessing to our church, as well as to us personally.
My heart is grieving for this dear family, and I know that their greatest need is prayer. I ask you to please pray with me for Stephanie, and each of her eight children, along with the many extended family and friends who have been affected by the loss of Bro. Charles. Please pray also that the Lord would be greatly glorified, and that many souls would be saved.
In addition to prayer, there will be many physical, practical needs for Stephanie and the children. In the immediate, they need funds to return to the States, to pay for an unexpected funeral, as well as for living expenses. I have been pondering and praying for a way to help raise money for the Wesco family.
With that in mind, I am going to offer my 2 CDs for a discounted price of $10 each for the next week (November 2-November 9). "Consider Him" is a vocal solo CD. "Jesus Is All the World To Me" is a piano CD.
All of the money from the CDs (not including shipping) will go directly to the Wesco family. I will be sending the money through their mission agency at Wyldewood Baptist Church.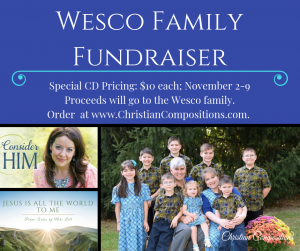 There is no limit on quantities. You can purchase them for gifts, to sell in a bookstore, or just for your personal use. Again, all of the money from the sales will go to help this sweet family.
If you prefer to donate without purchasing, you can do that as well. You can send checks directly to:
First Light Baptist Mission
ATTN: Charles Wesco Fund
3030 Witzel Ave.
Oshkosh, WI 54904
You can also donate online at www.wyldewood.org.
Thank you so much for praying for the Wesco family, and for any assistance you give.
Niki Lott