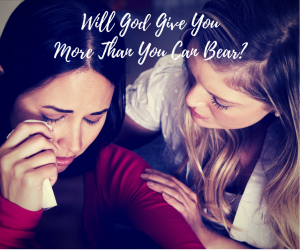 Does God promise that He won't place on us more than we can bear? I know so many people right now who are going through tremendous heartache, difficulty, and sorrow. For some, it is a health problem. For others, it is the loss of a loved one. It may be a financial hardship or some heartbreak due to a relationship. No matter what the burden or trial, I often hear people say (and have probably said it myself), "Remember, the Lord has promised He won't place more on you than you can bear." When we say this, we do so to bring comfort to the person who is suffering or grieving, but I am afraid that quite unintentionally, we may be adding to the weight of their burden.
Where does the Bible promise that God will not give us more burdens or trials or suffering than we can bear? I Corinthians 10:13 says, "There hath no temptation taken you but such as is common to man: but God is faithful, who will not suffer you to be tempted above that ye are able; but will with the temptation also make a way to escape, that ye may be able to bear it."
This verse speaks specifically of temptation, and God promises that He will provide a way for us to escape temptation; but, after searching, I have not found any other passage or verse in the Bible that holds this same promise to be true for grief or suffering.
Think of Joseph. God provided a way for Joseph to escape the temptation to sin, but Joseph continued to suffer for many years even though he did what was right.
Just because we are God's children….
1. We are not exempt from suffering. In fact, the Lord reminds us often that we will suffer need (Phil. 4:12), tribulation (I Thes. 3:4), reproach (I Tim. 4:10), trouble (II Tim. 2:9), persecution (II Tim. 3:12), affliction (Heb. 11:25), adversity (Heb. 13:3), and more.
2. We are not promised an escape from sorrow and suffering. Again, the promised escape is from temptation, not trials. In heaven, we know that there will be an escape from all of the suffering of sin and the flesh, but we are not promised an immediate escape from our earthly trials.
3. We are not equal to sorrow and suffering.
The truth is that our burdens are often heavier than we can bear. If we believe that we are promised that nothing we face will be greater than we can bear, then when we face some great trial or tragedy and are completely crushed and overwhelmed, we may begin to doubt God. We may feel angry and betrayed. Or perhaps, we may begin to even doubt if we are His children at all, for we believe that God does not place such heavy weights on His children's hearts.
If all this seems to be discouraging, please do not stop reading yet! The trouble is that our original premise is faulty. We are counting on a promise that isn't there and depending on our flesh to have the strength to bear alone what we can never carry without God's help. Our flesh is utterly weak, frail, corrupt, and broken. It is more than prone to frailty, it is predisposed to it. "My flesh and my heart faileth….", the psalm says. Over and over the Psalmist speaks of being overwhelmed, of weakness, of despair, of grief and tears. But, he does not stop there! He then turns his mind, his heart, and his hurt over to God. "My flesh and my heart faileth: but God is the strength of my heart, and my portion for ever." (Some other passages are found in Psalms 55, 61, 77, 78, 124, 142, and 143) He chooses to think on the Lord and to trust in the Lord in the midst of, in spite of, and because of his circumstances.
While we are not equal to our burdens, the Lord is far greater than anything we can face. We can do all things through Christ (Phil. 4:13). "Surely he hath borne our griefs, and carried our sorrows…." (Isa. 53:4), and "… we have not an high priest which cannot be touched with the feeling of our infirmities…." (Heb. 4:15). Jesus not only bore the penalty of our sin, but also the pain – the grief, the suffering, the heartache – that sin brings. And while we may not be exempt from suffering, and there may not be an escape, He promises us:
– His presence (Ps. 23:4; Isa. 41:10; Heb. 13:5) We do not have to go through our difficulties alone, for He is with us.
– His power (Ps. 84:5-6; 37:39; Isa. 40:31; Phil. 4:13; II Cor. 12:9)
We can rest in His strength.
– His purpose (Rom. 8:28; II Cor. 1:3-7; 4:17-18)
We can realize that God has a purpose for our lives, in spite of and through our suffering.
– His pity (Lam. 3:31-36; Ps. 103:13)
We need to remember that these promises are reserved for His children, and for those who fear and follow Him, but what precious comfort they are!
If we are going to weather the storms, and survive our suffering, it will not be because we are strong, but because we acknowledge our utter weakness and turn to the Lord for strength. The Lord brings us to a place of weakness to teach us how much we need Him.
How our flesh despises this! It so longs to be independent of God. We want to be strong, to be brave, to be resilient and able to deal with whatever comes our way. We are more proud and full of ourselves than we even know. We rarely realize how much we depend on our flesh, our reasoning, and our emotion until it fails us.
Our Heavenly Father longs for us to depend completely on Him. "Trust in Him at all times." "Trust in the Lord with all thine heart…". It is easy to say that we trust in the Lord and to truly feel that we are trusting Him when things are going well. But when our hearts are broken, and nothing makes sense, and we have been betrayed and battered, it is then we must truly trust. It is easy to succumb to the wiles of Satan and the whisperings of our own hearts at such difficult times and allow ourselves to become bitter. It is easy to turn to other things or people in hopes that they can provide us comfort and healing. It is easy to stray from the Lord when we should be running to Him. But it is when we are willing to admit our own need, and realize that only the Lord can bear our grief and carry our sorrows, that we will "find rest" for our souls (Mt. 11:28-30).
If you are "overwhelmed", run to the Lord and His Word. There you will find salvation (Ps. 119:92), comfort (Ps. 119:50), and strength (Ps. 119:28). His Word will teach you (Ps. 119:71), correct you (Ps. 119:67), stir you (Ps. 119:50, 107), and sustain you (Ps. 119:116-117).
If you are attempting to carry more than you can bear, "Cast thy burden upon the LORD, and he shall sustain thee: he shall never suffer the righteous to be moved." (Ps. 55:22) "Trust in him at all times; ye people, pour out your heart before him: God is a refuge for us. Selah." (Ps. 62:8) And remember, "From the end of the earth will I cry unto thee, when my heart is overwhelmed: lead me to the rock that is higher than I." (Ps. 61:2)