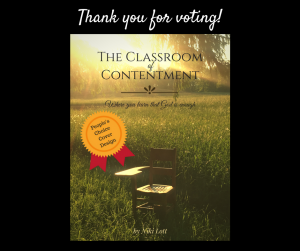 The final selection is….Cover B!
I want to say thank you to each of you (over 200!) who took the time to vote for the cover design of my upcoming book. I appreciate all of the comments and feedback. They are very helpful!
I also want to say a special thank you to Lydia Miller, the creator of Cover Design A, for her creative work. I appreciate the time and effort she took to submit her entry. Her design was a favorite of many! 
In case you were wondering, I was the designer of Cover B. I didn't plan to design anything, but in an unexpected and rather unusual turn of events, Lydia's entry was the only one I received. I seriously considered awarding her the cover design by default, but felt that undermined a large part of the reason I chose to have the contest, and that was to see different designs and allow my customers to choose the one they felt was best suited to the book.
Lydia's design was beautiful, and received quite a few votes. She is receiving the runner-up prize, as well as another gift, since the contest didn't turn out exactly as planned.
If you think of it, please pray for me as I finish the writing and editing of this book. I'm looking forward to completing it. It is my prayer that it will be used of the Lord to be a help and encouragement to many.
Thanks again!
Niki