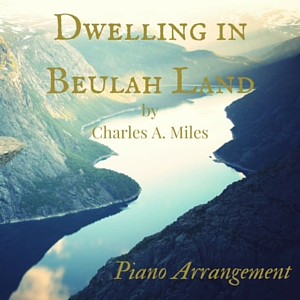 This piano arrangement is not original to me, but is very special to me. When I was about 12 years old, I began taking piano lessons from a new teacher, Mrs. Athlene Bishop. I will never forget the first day I went to her house. I was a little nervous. She had me sit down, and she sat down at the piano, and began to play this arrangement. I was mesmerized!
She asked me, "Do you want to be able to play like this?" I said, "Yes!" She said, "Then I can teach you." And teach she did! She was strict, REALLY strict. She required an hour of practice every day, written in a log. She required counting OUT LOUD with every song. If your counting was slow, or off rhythm, she would tap with her pencil, sometimes quite firmly! She required LOTS of finger exercises, scales, and a classical "repertoire". She expected a great deal from me. She challenged me constantly. And she taught me hymn playing – not just playing the notes from the hymnal, but how to build from those notes with chords, and octave runs, and energy, and passion. She took the basics that I knew, and she pushed and inspired me to go far beyond what I had imagined possible.  In just over a year that I took lessons from her, my playing completely transformed. She gave me knowledge, experience, and confidence.
When I started lessons, Mrs. Bishop had already been playing for 60 years. She had learned to play hymns by listening to Rudy Atwood on the radio. She had quite a personality, and was known for breaking piano strings because of her strong, enthusiastic playing! She was a wonderful teacher, and I know that God brought her into my life at just the right time.
This arrangement of Dwelling in Beulah Land is the arrangement she played for me that first day I sat on the couch in her living room. She taught it to me from the church hymnal and memory. There was no written arrangement, so this is her arrangement the best I can remember it. The energy, joy, and breadth of this arrangement seem a perfect summation of her style.
Mrs. Bishop passed away many years ago, but her legacy lives on, and I hope to honor it.
I have labeled this an intermediate arrangement. If you struggle with octaves or large chords, it may be a little more advanced. In the spirit of Mrs, Bishop, I would encourage you to practice, practice, practice until you can play it smoothly and with the energy and emotion it deserves. In spite of the challenge, this is a FUN arrangement!
I pray that it will inspire and bless you as much as it has me!!!
Want to hear this arrangement? You can listen here: