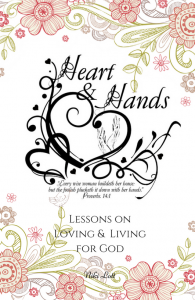 I'm thrilled to announce the release of something completely new! I have just published a new Bible study booklet for ladies.
This booklet, entitled Heart & Hands, is the culmination of a personal study I began many years ago when I was teaching a teen girls' Sunday School class. It has been very encouraging to me, and I hope it will be to you as well.
Heart & Hands deals with having a heart that loves God, and hands that desire to serve Him. It looks at seven different types of "hands" in the Bible, and the type of heart that produces them. Using women of the Bible as illustrations, it demonstrates how having the right type of heart for God will produce hands that serve Him and others.
It also addresses many of the areas that I personally have struggled with, how Satan tries to con us, and how the Bible teaches us to overcome those difficulties and be victorious in our Christian lives.
Here are a few of the women you will see:
Rahab
Ruth
Jochebed
The Shunammite Woman
The Widow of Zarephath
Mary, the mother of Jesus
Esther

If you would like to see some preview pages, you can click here, and click the "Look Inside" emblem.
I will have companion products available within the next few weeks for those who may wish to do a more in-depth personal study, and for those who may want to teach this in a Bible study group, or Sunday school class. These resources will include downloadable teacher guides, student handouts, and PowerPoint slides.
I offer quantity discounts for those who may wish to order multiple copies for gifts, a class, or a bookstore. Click here to order.
It is my hope and prayer that the Lord will use this small study to have a great impact on the hearts and lives of ladies who have a desire to know and please Him.