As 2020 draws to a close, I want to say "thank you" to each of you who have supported Christian Compositions through the past year. While it has been a difficult year for many people in numerous ways, it has also been a year in which we have been able to see God's faithfulness and love no matter the circumstances.
As a small way of showing my appreciation for you, I am offering a 25% off discount on everything in the store. Simply use coupon code: newyear as you checkout. This discount expires 1/3/21.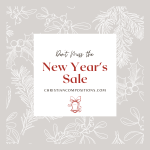 I am also giving away a free sheet music download! This offer is good only through 1/1/21. I chose this song, One Moment In Eternity, as the giveaway because I think it is very appropriate as we consider the approaching year. It is available as a solo or trio arrangement, so you can choose whichever best suits your needs.
Please Note: If you do not follow the links in this post, and are shopping from the website, you must click on the song title and go to the page for that song to get the free download. There will be a "Login for Free Download" button on the page for the song. It will not work if you "add to cart" from the main page. You will not need to enter any credit card info (unless you are ordering additional items) to receive the download. Simply log into your account, or create a new account with your e-mail address, when prompted.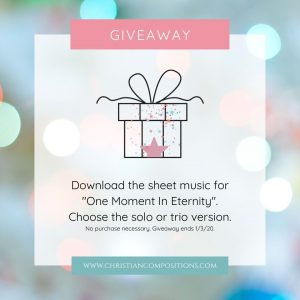 I pray that as we enter 2021, it will be with hearts that desire to grow in our faith and love for the Lord! God bless you.
Niki Lott