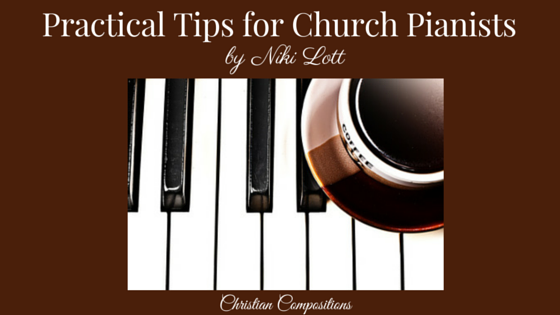 I touched on this topic in my last post, but I have found that "measures" are a big issue for church musicians. I'm not talking about bar lines and counting. I'm talking about the way we measure ourselves.
When I was in college, I was taking a music class. It was finals week, and I was waiting in the hall outside my teacher's office to perform my final piece. I hadn't really been nervous at all until I heard the student before me begin performing their final. It was beautiful, and suddenly I was a nervous wreck! I told my friend who was waiting with me how nervous I was, and that I could never sing like that person. My friend said something very wise – something I already knew, but needed reminded of. "God didn't give you her voice or talent. He gave you yours. Your job is to do the best you can with what God has given you. Don't try to be someone else!"
How thankful I am for that counsel. It has come back to mind often – when I become intimidated or nervous because someone who is more accomplished than I am walks into the room, or when I am tempted to feel proud because I think I'm better than someone else. Whether we are involved in music or some other ministry, one of our biggest stumblingblocks can be comparison with others around us.
A verse my mother tried to ingrain in me from the time I was young is found in II Corinthians, "…but they measuring themselves by themselves, and comparing themselves among themselves, are not wise. " (II Cor. 10:12). We often hinder our service to the Lord by not using the right "measures". Whether we are measuring ourselves by those around us and feeling superior to them, or comparing ourselves to others and feeling that we can never "measure up", the Bible says this is not wise.
Remember Moses? God had a job for him to do, but Moses felt the need to inform God of his inabilities. Compared to others, Moses was not eloquent. He was not a great speaker. And he was painfully aware of this. However, God reminded him that He made his mouth, and that He would help him. How often do we do the same thing? We know God wants us to do something, but we are painfully aware of our shortcomings, inabilities and failures. We try to tell God all the reasons why His plan is not good. "Why don't you know, Lord, Sister So-and-So is much more talented than I am?" How silly we must sound to the Lord! His strength is made perfect in weakness. God is not looking for talented people, or perfect people. He is looking for people who are willing to allow Him to work through them.
(I Cor. 1:26-31) "For ye see your calling, brethren, how that not many wise men after the flesh, not many mighty, not many noble, are called: But God hath chosen the foolish things of the world to confound the wise; and God hath chosen the weak things of the world to confound the things which are mighty; And base things of the world, and things which are despised, hath God chosen, yea, and things which are not, to bring to nought things that are: That no flesh should glory in his presence. But of him are ye in Christ Jesus, who of God is made unto us wisdom, and righteousness, and sanctification, and redemption: That, according as it is written, He that glorieth, let him glory in the Lord."
Don't fall into the trap of comparison. You will always find someone who is better than you, who has more ability, more charisma, more time. And you will probably find someone who is struggling, who is not as "able" as you. The standard we are to measure ourselves against is the Lord Jesus Christ. We all need His help, His filling, and His power to accomplish His purpose.
II Cor.10:17-18 "But he that glorieth, let him glory in the Lord. For not he that commendeth himself is approved, but whom the Lord commendeth."